Currently serving as a Muskegon County EMT and fire chief, Alan Styles has dedicated his time to helping the community and giving back as much as possible. After spending 31 years as a firefighter EMT and working in a trauma hospital, he decided to use his skills and experience to help the community by mentoring students and helping them prepare for their future careers. Alan returned to Ross' Roosevelt Park campus to speak with the morning medical assistant students about different careers in healthcare. He gave a motivational speech and presentation about his career and training, and emphasized the different directions that your career may take. In addition, he shared some heart-warming stories about his family and his adventures in Michigan, Florida, and Illinois.
We sat down with Alan to hear his story of how he got started.
Here is what he had to say:
Tell me a little bit about yourself and your background.
Originally, I am from Chicago, but I moved to Muskegon when I was younger and have been living here ever since. It's been about 31 years. I did move around quite a bit. I started out in Illinois and I spent most of my time there because I was born and raised there. Then I was on the Wisconsin border for a while. I spent some time training up there and then I went back and trained in Florida and Alabama. After that, I came to Michigan a few times to visit. I never thought I'd end up here, but I did. I found a job in Twin Lake, so I picked up my whole family and we moved here from Illinois.  
I started at the fire academy in 1988 and I worked as a firefighter EMT in Illinois. While I was working as a firefighter, I also started to work in a level one hospital trauma center as a technician. A level one trauma center is where the worst of the worst cases go. As time went on, I wanted to learn more about the field I was in, so I dedicated some time to learning as much as I possibly could. Eventually, I became an educator and a boss. At the hospital I worked at, we had a medical program where they would bring in students to practice their skills, so there were always a bunch of students working with us. Especially in our emergency department. They spent quite a bit of time with us, so it was pretty neat and cool to see their progress from the time they started to when they finished. Working at the hospital was a big part of getting their prerequisites to graduate from school. So we did our best to try and prepare them.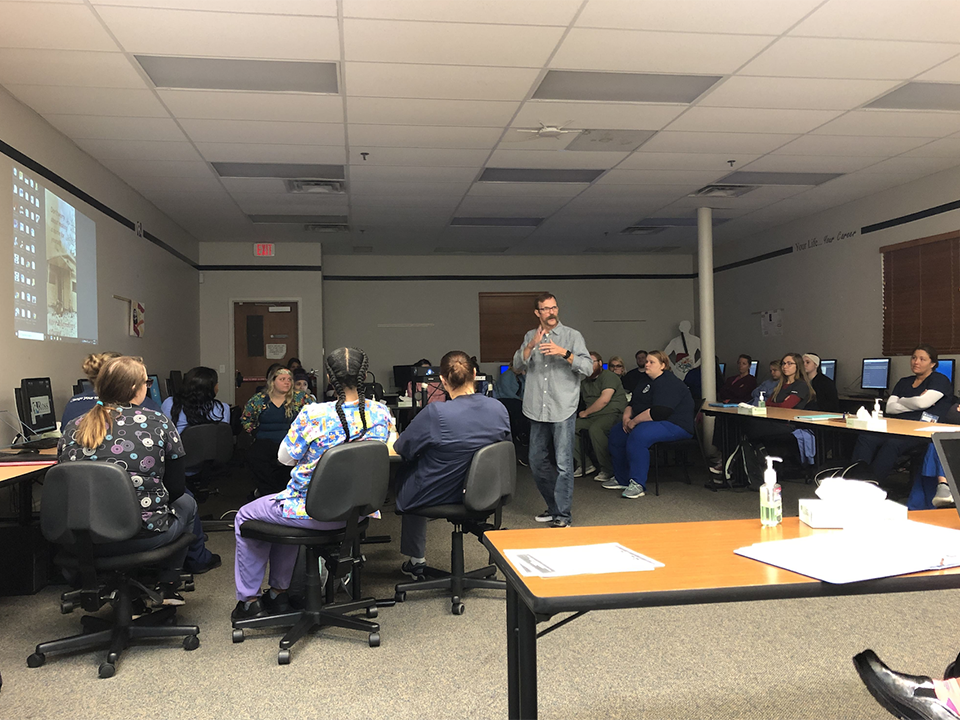 What education did you need for your job?
So I started out as an EMT. The education for becoming an EMT teaches you a little bit more than what you would normally do in a typical doctor's office. For the most part, though, it's generally the same. The only difference is that you do the stuff out on the streets and you're dealing with more chaotic environments. So then I went on to become a paramedic and I did that for many years. My schooling was about nine months in the classroom and then I did my internship for a few months after that. It did take me a while, but I just took my time and went from there. I'm still a paramedic but I don't practice as one. My position was a fire-based EMS which means we had the capability to be based at a fire station in Muskegon County. It was still run by the hospital, though. We don't do a lot of the pre-hospital stuff anymore. We mostly do medical first response which means we still go there but we don't do any of those major skills that we would normally perform in the hospital. When you are hired, they send you to the fire academy and then the EMT school, which were actually right next to each other in my case.
Why did you choose to go into healthcare?
My dad was a firefighter and my mom was a nurse. I wanted to pursue a career in a field that I was already familiar with. I figured I had two choices. To be a fireman or a nurse. I ended up choosing a fireman because I felt that was more aligned with my future aspirations.
I definitely feel like I've found my purpose through my career. I realized it was the right thing to do and the road I was supposed to travel down. This was my calling and I did my best to leave it better than I found it.
How did you find out about Ross?
I actually found out about Ross through one of the instructors. I trained her son as a firefighter and they were looking for a different kind of outside message, so Brandon got me in touch with his mom and she asked me to come in and speak. I went in a year later and I just talked to them about the different careers in the medical field and kinda just gave a kind of a different perspective on where I think healthcare is going and how it's evolving.
Do you have any people who have inspired you along the way?
My parents' careers are practically the only thing that inspired me. There was really no outside influence besides that. I've had mentors throughout my career who helped motivate me but I never asked myself what I should be doing. I kinda just knew what I needed to do. It sounds silly, but I just knew what I needed to do and I did exactly that.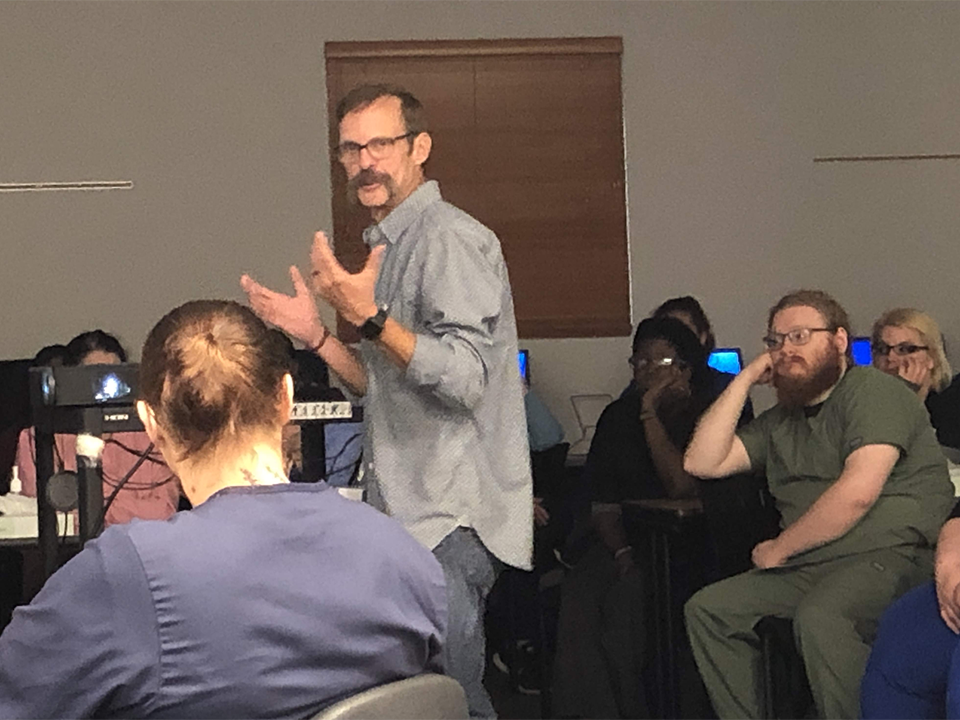 What's your favorite thing about your job?
I really enjoy just helping people and making a difference in their lives. Sometimes you are encountering a person's worst day. To me, it might be something minor, but to them it could be their worst day. I like doing the right thing and helping people. It makes me feel good inside.
What are some achievements that you're proud of?
I have many achievements, but I've never been that kind of person who always talks about their achievements. I guess one thing I'm proud of, though, is my book of certificates. One in particular that sticks out to me is two years ago when I helped a gentleman who almost got killed in a really bad car accident. He is still alive. So now every year on the anniversary of his accident, he sends me a little note and says thanks for making my day. It definitely makes me feel like I'm actualizing my purpose in life.
Do you have any advice for people going into the medical field?
Do the best you can. Give it 100% every single day. But, also make sure you understand that this isn't the most glamorous job in the world. Healthcare isn't glamorous right now, especially with everything going on in the world. It's worse now than ever before. So you need to be honest with yourself and with those that you work with, have integrity, and don't settle. I call it don't don't settle for mediocrity. I'm not saying you have to ace every exam. I'm sure as heck no exam acer, but just work hard and make sure you do things effectively and efficiently. Also, make sure you have a good reason behind everything you do. Just always try to improve yourself and stay teachable. Even if you feel like you've hit the pinnacle in your career, just remember that there's always more to learn. 
What advice would you give your younger self?
I think the best advice I could give would be to slow down a bit. Don't rush so much. You know, I've realized as I've gotten older that obviously my body is not in the same shape that it used to be in. I'm pretty broken and battered. I took some very unnecessary risks that I probably shouldn't have taken back then. Also, be grateful for what you have and work hard for it, but at the same time, don't beat yourself up either. You wanna walk out of the career happy and healthy, not all bruised up. You also don't want to speed up the process. Just try to enjoy the moment and allow things to unfold naturally. 
Tell me about your motto and what it means.
So my motto is "Duty is doing it, pride is wearing it, and tradition is living it." A very dear friend of mine was the commissioner and fire chief in Chicago and that was his favorite saying. I asked him if I could use that because I resonated so much with it, and that is now our department motto. We always talk about that and we say how we have a duty to do something and we won't forget where we came from. My personal motto is we don't train till we get it right; we train till we can't get it wrong. Even if I get it right, I want to be able to do it so many times that I don't even realize I'm doing it wrong. For example, like the first time you tied your shoes, it was difficult, but now you tie your shoes and you don't even think about it. Same thing goes for our jobs. Instead of thinking about how we're going to do something, I want us to focus on doing it well. That's just our muscle memory that we have to exercise. Especially in healthcare. When people are doing blood draws, they are always shaking the first time they do it and they're scared. When I was teaching my students paramedicine, I always used to tell them that it doesn't hurt you to stick the needle in someone else. I don't know why you're shaking. If you do it right, it's not gonna hurt you. If you don't think about it and you use humor, it makes you feel better. I think the same way now. We don't do it to get it wrong. We have to strive for that. That's what my motto stands for as well. We want to make sure we're doing the right thing. Whether you're a medical assistant, a phlebotomist, or a cart guy, just be the best person you can be. You will eventually get there with time.
What are your future aspirations?
So I guess the next big thing that I'm looking forward to is just retirement. I'll be retiring in probably 3-5 years. I put in about 30 years. I'm definitely going to miss it a lot because I did enjoy it, but I want to be able to take some time for me and my family, experience some vacations, and sleep the entire night. I want to retire happy and healthy. So far, I have a few years to go. 
What values are important to you?
So I would say that first you should pick your set of values that you believe in and start to live by them. I thought a little bit about faith and when I said that. Picking something, believing in it, and living it out is key. When you talk about family or career, don't forget your family because those are the ones that are supporting you unconditionally when you're doing stuff like this. Schooling will sometimes put a damper on relationships because people don't always understand it unless they've been through it themselves. Sometimes, some people might get mad that you're always gone to school or whatever, but family tends to be more understanding. So you want to make sure you keep your values at home as true as you can. You obviously also need to have good values with your co-workers as well, wherever it is that you end up. You have to take care of the people you work with. Not just yourself because it's not just about you. It's about everyone and all of us. Your success is just as important as the entire team. At least this was the case for my professions. The values are mixed together. It's also okay to be wrong or to disagree, but just have a strong opinion as to why you don't believe in something and be respectful to the opinions of others. 
Tell me about your training.
So I had 240 hours of school. Then another 100 or so in the medical field and then every year after that you have to have continual training and go back to school to keep learning new things. Even 30 years in, training is really important. We're always trying to learn new things and improve. So it's important to be on top of everything. Initially, there is the training for MA but then there's the continual education you have to do so you're always improving. It is important that people know this ahead of time. I knew I wanted to do this because I grew up with my mom in the medical field and my dad a firefighter. So I knew this is what I was gonna do, but if you don't know anyone who works in the field that you want to go into, it wouldn't be bad to talk or shadow someone who is already in the field, so that way you know what you are getting yourself into.
What advice do you have for people wanting to follow a new course in life?
I would say don't be afraid to take a risk or a chance. If you think you know what direction you want to go in, then do that, but be true to what you're going to do. It's also important to remember that you have to work for what you want. You can't expect someone to hand it to you.