After attending Ross as a student several years back, Stacie Eckhardt has found her way back to Ross as an instructor. After facing some adversity early on in her life, she decided she wasn't going to let any challenges take her down, but instead, use them as inspiration to create a better life for herself and her loved ones. Through her perseverance, hard work, and positive outlook on life, she was able to find her purpose and create a beautiful life that she is proud of. She has dedicated herself to her mission of becoming a better version of herself, as well as helping those around her do the same in their own endeavors. Stacie is a great role model and example to everyone around her as she strives to use her life experiences and passion to make a difference in her community.
We sat down with Stacie to hear her story.
Here is what she had to say:
Tell me a little bit about yourself.
Well for starters, I love the outdoors. I go away in the summer as much as possible to wherever I can find a body of water. I take my two dogs kayaking with me (or at I least try to). I also have my two kids. My oldest is 18 and my youngest is 14. They are wonderful and they like adventures almost as much as I do. When I can't be outside because of the weather, I will do lots of different activities inside, such as knitting and crocheting, making jewelry, baking, wood burning, and reading. I also love learning as much as I can about medicine and the medical field in general. It's always evolving and changing, so I like to stay informed. Helping people to live their best life is what drives me in life. I love encouraging people to take informed control over their personal health as I believe that is the key to optimal overall health. So I enjoy taking even the smallest opportunities I get to educate patients in the ways that they can make simple, but subtle changes to improve their life.
What program do you teach at Ross and how long have you been here?
I am teaching the MA program clinical. I am just starting.
How did you find your way back to Ross as an instructor after attending as a student in the past? How does it feel to be on the other side as an instructor now?
So, I actually applied quite a few times for this position. It's kind of funny because I do believe timing is everything. I apparently just wasn't ready before to be placed in this role and had to continue working on my skills to become more well rounded. I am so proud and happy to say that I am now an instructor at Ross. It makes it that much more special for me because we made such a big impact as the very first graduating class of Ross Grand Rapids North! I recently saw myself in a photo that was taken back when I was a student here, and I was completely shocked. I came to Ross broke, jobless, essentially homeless. Now I have completely turned my life around. I am a homeowner, I have two pets, a nice vehicle, and I do it all by myself. It's an incredible feeling. Your age doesn't matter. If life knocked you down, it knocked you down, and there is no discretion for layoffs and evictions. I got back up, went to school, and changed my life.
How was your experience at Ross? Any memorable moments?
Oh boy, so while in school at Ross, my life was quite literally falling apart around me. My son broke his arm, my best friend had been assaulted with a machete to the head and survived. It was complete insanity. I did not know if I could keep on going. But, I learned to channel the instances around me and use them as learning opportunities. My classmates were unbelievably supportive and we had a strong bond cannot be broken even to this day. We hugged, cried, and we were just always there for each other. So yeah, I don't think there's a specific memory that stands out as memorable for me; the entire experience was memorable.
What made you want to pursue healthcare?
In all honesty, I was not interested in healthcare at all. When I lost my job (laid off), I also ended up losing my home. So I decided to get a career that had some stability and I decided that healthcare isn't going anywhere so that would be my choice.
How did you feel when you saw a picture of yourself as a student, along with your classmates, at the Grand Rapids North campus?
Oh my gosh! I completely forgot about that picture frame and how the three of us couldn't believe that we did it! All of us were single moms just doing the best that we could. And wow…to look back and think "That WAS me" is something remarkable!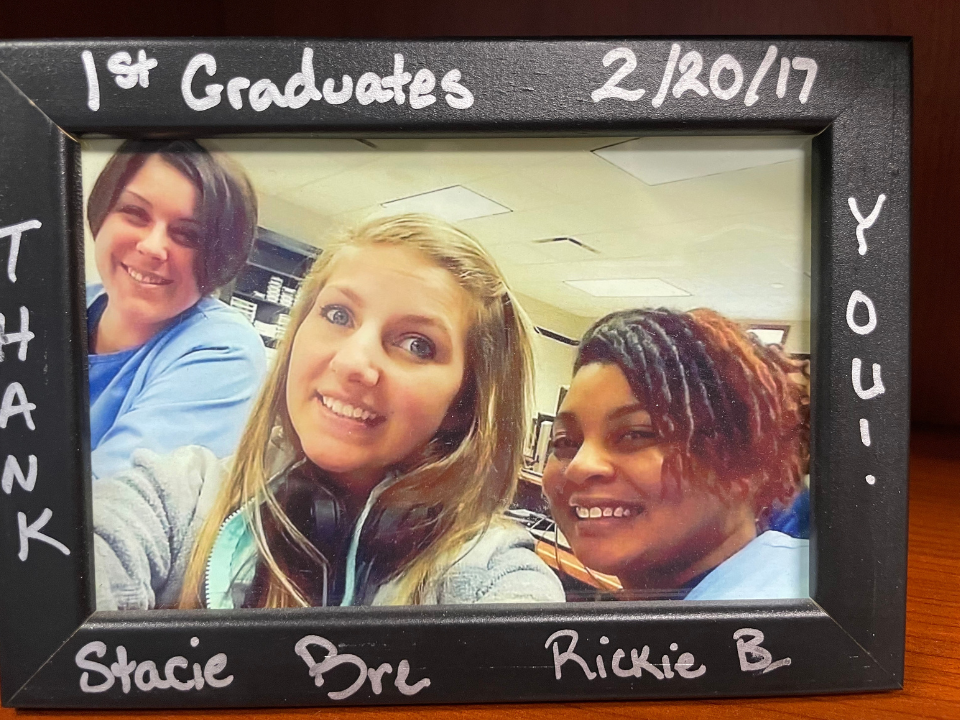 What is your favorite thing about your job?
I love the interaction I get with patients. I've worked in a multitude of specialties, and the connection you get with the patients can be quite deep and meaningful, so I definitely enjoy that aspect of it.
Are there any particular people or events that have inspired you to progress as a person? Did you have any mentors along the way?
My current boyfriend has inspired me to continue progressing as a person. At my age, I am ready to start thinking about my future and the next steps. I need to save for retirement and plan to save for grandkids someday. I want to be in a position to be able to do all of the things, and I would like to do it in a way where I don't sacrifice so much time away from my loved ones.
Three important lessons you've learned so far (personal, professional, or both).
At the end of the day, just leave all the office drama at the office. It's like a sink of dishes; it'll be there tomorrow.
No matter how frustrated you get with a patient, remember that they are coming to you because something is not right and they are scared, so always be kind.
Have fun! Bringing your own flavor of personality to the job is what makes you stand out from the rest.
If you could give your younger self a piece of advice, what would it be?
Go back to school sooner.
A fun fact about you.
Oye, I can speak Polish (a little). I'm adopted, and found both of my birth families.
What advice would you give to students who want to pursue a similar path?
Just go for it and do it. It's rewarding, and yes, the burnout is very real, but the drive to feel needed is what will keep you going.
A few things you wish you knew before going into the medical field.
I wish I knew that you can't bridge from MA to RN.
What achievements are you most proud of?
Becoming a homeowner with no cosigner and raising amazing kids is what I'm most proud of.