In an effort to help out the community, Ross Education in Fort Wayne held a donation drive for Erin's House For Grieving Children. Erin's House is an organization that provides support services to children, teens, and their families who have experienced the death of a loved one. Staff and students put donation boxes in each classroom, and over the course of a month, they collected items such as bottled water, ice packs, notebooks, disinfectant wipes, gift cards, utensils, band-aids, flashlights, mini hand sanitizers, etc. They also collected stickers, crayons, notebooks, and board games for Healing Hearts, which is a program put on by the organization to help young kids cope with loss. After a month of collecting supplies, the donations were taken and dropped off at Erin's House.
Emily Mock is the family support coordinator for Erin's House, and she has been very involved with the organization for several years now. We sat down with Emily and had the opportunity to hear the story behind how the organization came to be, how it has evolved over the years, and the impact they're making in the community.
Tell me a little bit about Erin's House and how it came to be.
So Erin's House For Grieving Children is a non-profit organization that was founded in 1993 in Fort Wayne, Indiana. The organization provides support services at no cost to children, teens, and their families, who have experienced the death of a loved one.
We do a few things. We always start off with peer support groups in some fashion, but we also have an in-house counselor now, and she can meet with families that need a little extra support. They can see her at no cost. We also bring our programming into schools, and this helps students who may not have access to our resources otherwise. In addition, we put on three camps every year for the kids, and we have a lot of other events throughout the year as well.
We are the only stand alone children's grief center in the state of Indiana. Since opening up nearly three decades ago, the organization has served more than 26,000 individuals throughout Northeast Indiana and Northwest Ohio.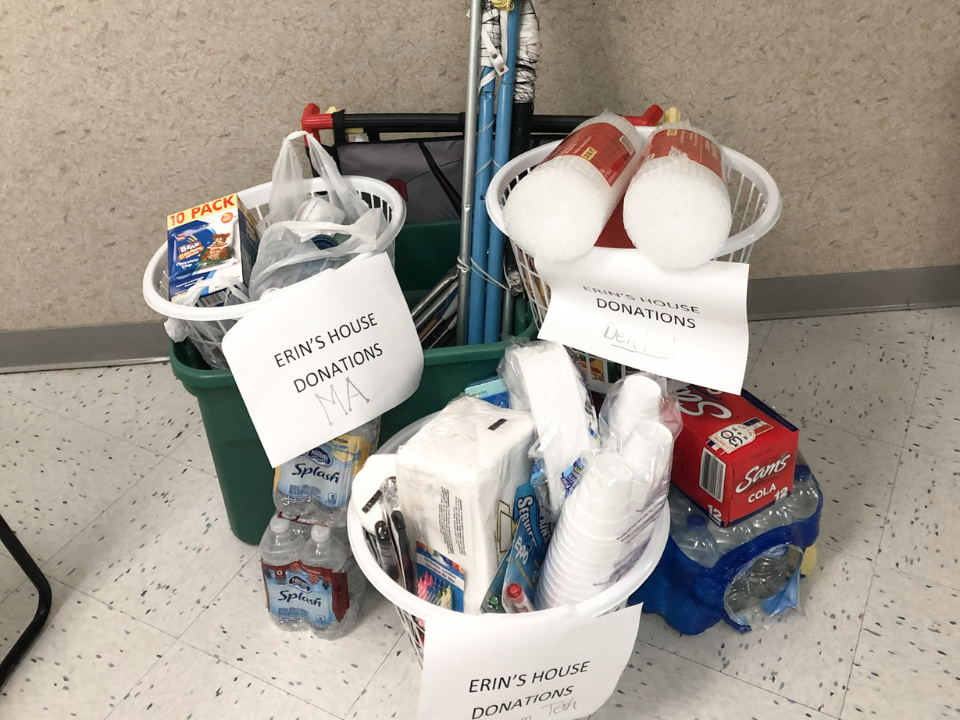 The idea for Erin's House was created when 5-year-old Erin Farragh of Fort Wayne died unexpectedly at her home on January 5th, 1989. She was about two months away from her 6th birthday. After passing, Erin's parents were able to find support groups for themselves, but they could not find any grief help for Erin's younger sister and brother. The National Junior League of Fort Wayne, along with a family friend of Erin's parents, were attending a conference where they learned that there was a special project at a center for grieving children in Cincinnati. So they came up with the idea to bring this to Fort Wayne. They they did studies to see if the city would support something like this. They found that there was a huge demand for something like this in the community, so Traci and other local Junior League members at the conference brought the idea back to Fort Wayne. Local organizers opened Erin's House in 1993. After that, it kind of just flourished and turned into what it is today. We're almost coming up on 30 years soon.
It's really important to us that we provide all of our support services at no cost. Going through a loss is very difficult as is, so families who lost a loved one should not have to worry about paying for services or getting their children the grief support they need when they need it the most. We know that grief can cause children and teens to feel isolated from their peers. So providing them with a safe space to work through their grief and loss, and promoting a sense of belonging is very important to us because we've seen the impact it can make.
Children grieve differently than adults. For the most part, adults can put their feelings into words and grieve properly, but that's not always the case for children. Children have random spurts of anger and grief followed by normal periods of playing as if nothing happened. This behavior can often be confusing to parents. They may also have a delayed reaction to the loss of a loved one because they may not be able to process the loss at that moment. The way children process grief also changes as they get older. Erin's House helps young kids and teens to get a better understanding of their feelings and why they're feeling certain emotions. We aim to help children accept, understand, and transmute those confusing and sometimes intense feelings of grief.
Oftentimes, children are expected to bounce right back after the death of a family member. This leads to them not always knowing how to cope with their pain or how to process certain emotions. Because parents are usually so deep in their own sorrow and grief, they may not always have the energy or resources to help their children. This can leave children feeling confused and powerless.
Do you have any memorable stories of people that you've helped?
Oh yes, there are so many. We rely on volunteers to do the bulk of the grief work that we do with the kids groups. We have 150 or so volunteers that are trained and have gone through a facilitator training as well. Before the pandemic started, we had about 200 volunteers. They are the ones that work with the kids. A lot of our volunteers have been here for a long time. I think a cool story is there's a large percentage of volunteers that were Erin's House kids. They went through the program themselves and found it so helpful in their healing process that they decided when they were old enough and in the right place, they wanted to give back and volunteer. They wanted to be that person that they had when they were young and came to Erin's House. So they go through the training and they honestly make really good volunteers because they have personal experience.
How can people help?
Aside from donating and volunteering, we really appreciate people just spreading the word about us. I feel like a lot of families come to us because they hear about us through word of mouth. We are grateful for how supportive everyone in the community is. People are always just so generous. There's so many people in Fort Wayne that want to support our mission, either financially or by volunteering with the group. There's always somebody that wants to do something for us, or help us in some way. We're very fortunate to have all of the support that we have. We do our best to put ourselves out there as well. We attend national conferences every year and we've made friends all over the country. We've had people from all over the United States hear about our story, so sometimes they will travel here to tour our building and get ideas for their own grief centers. So I feel like we're kind of the front runners when it comes to that. The first wave, so to say, of having a facility like this.
It's just a really great and special place for a lot of kids. The adults sometimes don't know what to expect when they come here either. Sometimes it's hard to tell kids what their needs are. A lot of children are kind of apprehensive about coming here. You can definitely see it all over their faces when they walk in. But once they kind of realize that this place is very kid friendly, they end up loving it. A lot of them even end up asking their guardians when they can come back. So that's kind of cool and special to be able to see that kind of transition.
We serve kids as young as three up to eighteen years old. They can come here until they feel they're okay. We don't have a designated time for how long they should attend. It's different for every single person. Sometimes families will be here for six months, or sometimes even two to four years. It depends on a lot of factors. We encourage families to work together and decide what is best for them.
For more information on Erin's House or to find out how you can help, you can visit their site at https://www.erinshouse.org/.