To help out the community during these unpredictable times, Ross Medical Education Center in Kokomo partnered up with Food Finders Food Bank to provide relief to families who are experiencing food insecurity.
On June 11, Food Finders hosted a mobile food pantry for several hours in Ross' parking lot. When the truck arrived, there was already a line of waiting cars that started at the front entrance and wrapped all the way around the building. Because of the pandemic, individuals had to stay in their cars and drive up to get food. About 150 families showed up and each family received approximately 50 pounds of food. Alongside Ross Medical and Food Finders, the federal government also offered up the Indiana National Guard to help out with the distribution since Food Finders can't use their normal volunteers due to COVID-19.
Food Finders is a large organization that has been around since 1981. It currently serves 16 counties in Indiana. Its mission is to collaborate with other organizations to provide food for people in need. In doing so, Food Finders educates, advocates, and addresses food insecurity across North Central Indiana. The organization's programs include soup kitchens, a backpack program, which focuses on feeding children on the weekends and evenings when they're not at school, and the mobile food pantry, a truck full of food that is driven to different service areas. The mobile food pantry makes stops in rural communities that don't have enough food resources. They try to visit every county that they serve once a month.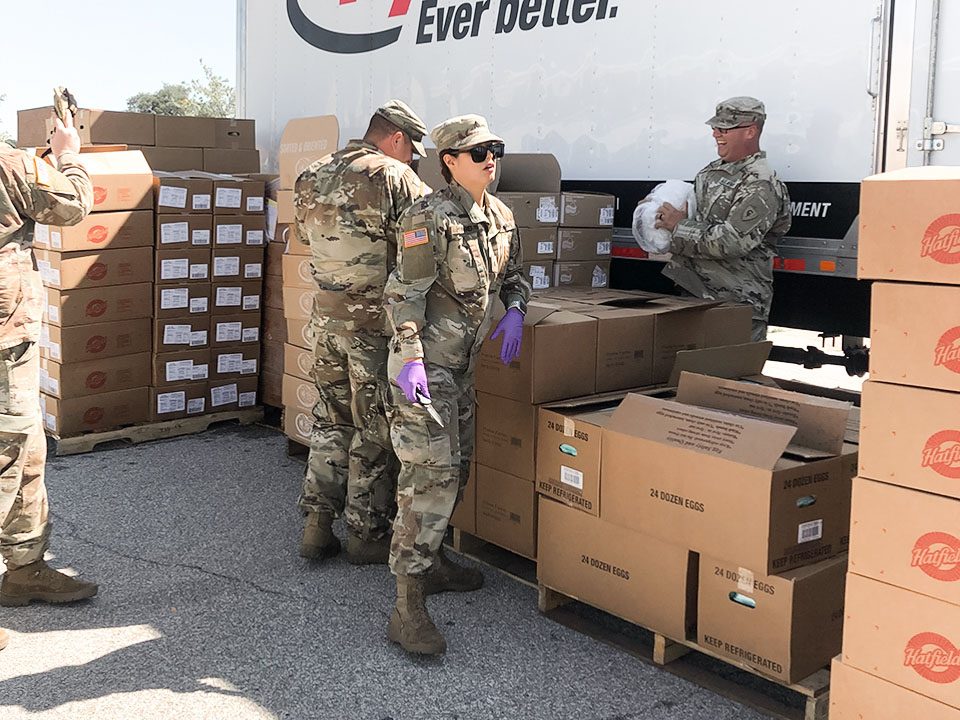 The Chief Philanthropy Officer of Food Finders, Kier Crites, stated, "I really love the work that we do because I know it provides immediate assistance. Typically, 96 cents of every dollar goes directly back to food and programming. So we're very efficient with our donations. I also know that we're helping change the conversation long-term about food insecurity and educating the public. We are letting people know that it's an issue that everyone needs to stay behind because no one should have to worry about where their next meal is coming from."
Kier and the folks at Food Finders are changing lives every day through the work they do, and their services have been especially helpful to the community these past few months. Kier stated, "We've seen a lot of folks on the front lines that have never asked for help before and some of those people have previously donated to our food bank. The unemployment rate was at an all-time high in March and April, so we saw a lot of people coming to us for the first time. They're so grateful that the community kind of wraps their arms around them and provides a place where they can get the extra help they need."
Regional Vice President of Ross Medical, Shannon Spencer, helped put together the event. When Food Finders reached out and asked if she would be willing to host the event, she was thrilled because she has been volunteering with Food Finders for the past five years and did everything she could to make sure it went smoothly.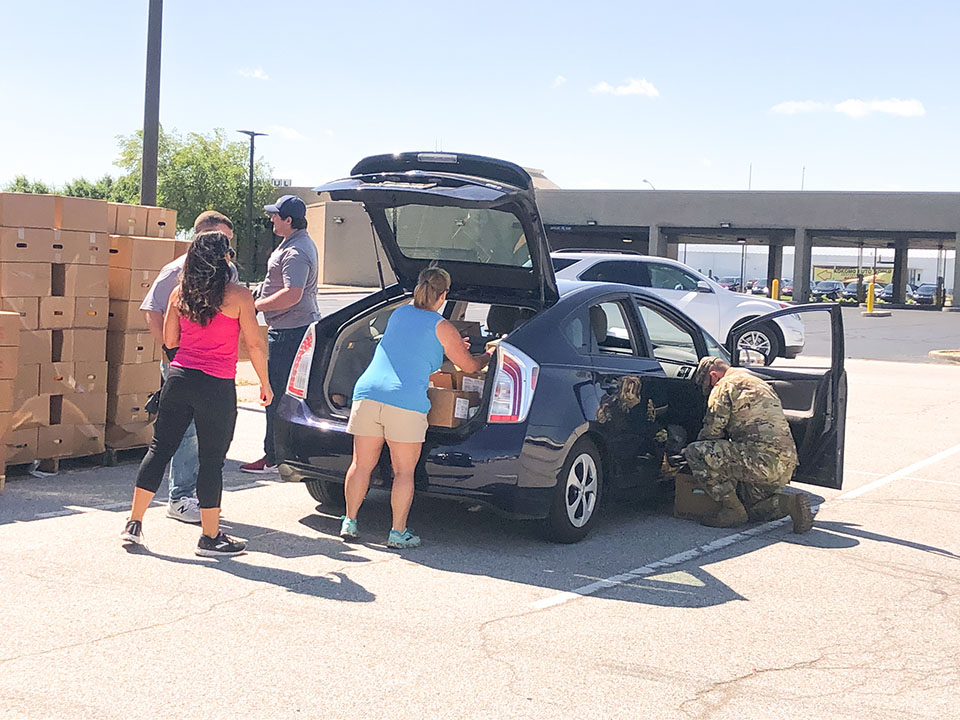 Shannon is very involved with her community. She always goes the extra mile to volunteer her time and put on different events to show community support. When asked what motivates her to be so involved in the community, she said that her students inspire her the most. "Now with the pandemic, I hear some of our students talking about how expensive groceries are and how some of them aren't working. Especially those who were waiters or waitresses. We have a couple of students who were pizza delivery drivers as well. So that motivated me. Sometimes I think about how blessed I am to be able to get food when I'm hungry. That's not the case for everyone, though. Some people are hungry all the time and they can't just go to their refrigerator and get food. So I just always think about how I can be a benefit to society and to my community. It's easy to give up money but it's harder to give up your time. Food Finders gets grants from different organizations to host their food pantries, so money is not always the problem. Oftentimes the problem is that they don't have the space or the people to host it. So that's also another reason why I like to help out when I can. Being of service to others can help you forget about your own problems," she stated.
While participating in the event, Shannon had the opportunity to speak to some individuals and hear their stories. She explained, "We humans can be pretty judgmental at times. We may see somebody drive up to the mobile food pantry in their Cadillac and we may wonder why they need food. Well, the reality is that they worked at a factory and now they're laid off and they haven't received their unemployment benefits yet. The money they had was used to pay off their car payment because they may not be able to get around otherwise. Instead of buying food, some chose to secure their means of transportation."
One story in particular stuck out to Shannon. She stated, "At the drive, I got the chance to talk to an older gentleman whose wife recently passed away. He was feeling pretty down. He was telling me how his granddaughter brought him up here so that he would have food because he hasn't thought about going to the grocery store lately."
Many women whose husbands have been deployed also came to get some food. The moms couldn't work during this time because they had to take care of the kids and the daycares were closed.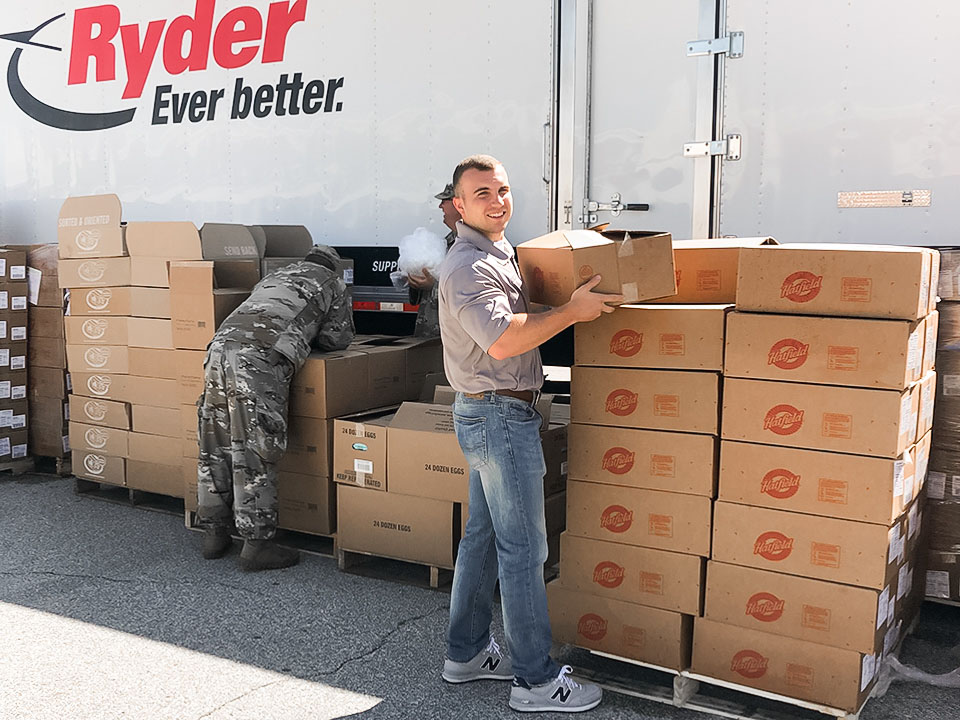 "Their scenarios are all so different. It's neat to be able to hear their stories and help them out," said Shannon.
Food Finders is currently in the process of adapting their programs for COVID-19. Right now, they're planning for the fall and trying to figure out how to bring their volunteers back safely. In addition, when they reopen, they will continue with the contactless method of distribution to their clients.
For information on Food Finders and to find out how you can help, please visit https://www.food-finders.org/.