Food insecurity is a really complex problem that affects millions of individuals worldwide. The USDA estimated that in the United States alone, one in nine Americans experienced food insecurity. Nationwide, that equates to more than 37 million Americans, with 11 million being children.¹ To help out the community and provide food for those in need, the Ross Medical community in Port Huron collected non-perishable food items to fill one of downtown Port Huron's Little Red Pantry locations. In doing so, they had the opportunity to learn more about this social issue affecting the community and the woman behind the movement.
The Little Red Pantry Project is run by Woman's Life, Chapter 803, in St. Clair County. The organization does many fundraisers and always tries to give back to the community in different ways. The idea started back in 2017 when Lisa Seelmann, the president of the chapter, happened to see someone in a different state doing something similar. She decided to consult with her family and chapter about it, and they all thought it was a great idea. Lisa and her chapter got everything going by getting a service project grant for $500 from Woman's Life Insurance Society to build and distribute something. They used the grant for the lumber and paint, and Lisa's husband, who is a carpenter, built the pantry. It's now become a team project. Lisa's husband builds the pantries, she and the kids paint, and the rest of the chapter keeps the pantries stocked. The way they're able to keep the project going is by holding fundraisers. The Woman's Life Insurance Society matches the amount they raise. Since 2017, they were able to build nine pantries, all of which are located in St. Clair County.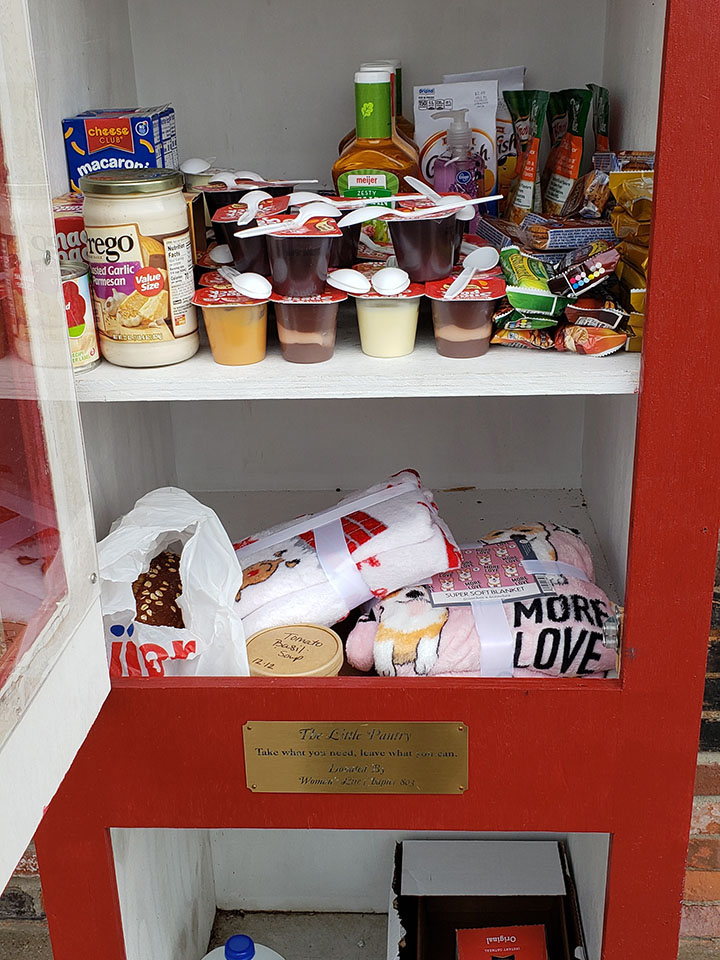 The pantries are little red boxes that look like Little Free Libraries, but house food instead of books. When creating them, the idea was that they would be anonymous and self-sustained and that the community would be able to give and take at the same time. When the project first started, people were encouraged to only leave food that is ready to eat and doesn't need any preparation. As time went on, people also started leaving personal hygiene items, clothing, and dog and cat food.
When asked what prompted Lisa to start this movement, she stated, "Back when my kids were young, my husband was a carpenter and I didn't work, so sometimes it was really hard with money. There were days when we struggled, and so with these pantries, I wanted to help people who are going through the same thing we went through. The whole idea for this project was that it would help people get by until the next paycheck. A lot of individuals are living paycheck to paycheck, so this resource is created with the intention of helping them out a little bit. It's not meant for people to grocery shop at; it's just meant to help them get by until the next time they have money."
The students, faculty, and staff at Ross Medical in Port Huron collected nearly 200 non-perishable food items, which included granola bars, cereal, canned meats, vegetables, and boxed pastas and sauces. Donations of baby food, body wash, shampoo, and blankets were also collected. Faith Kirnberger, Career Development Representative at Ross Medical, personally delivered and stocked the pantry a few times throughout the month. She shared, "It's a privilege to deliver the items and see the pantry completely filled thanks to our students and staff; however, when you return just a few days later and it is completely empty, it's heartbreaking. I think creating awareness about the Little Red Pantry program is imperative."
The students felt really good about their donations. Rachel Fresard, a Medical Assistant student at Ross in Port Huron graciously donated to the cause. She shared, "I always look for opportunities to help others any way that I can; it's a small way to make a big difference in people's lives."
For more information on this project or to find out how you can get involved please visit facebook.com/littleredpantries.
---
¹ Source: What is Food Insecurity?