Pavel Mendlik – a former student at the Saginaw campus – is an individual who is admired by his community for his dedication to helping others. Aside from completing his studies for a Medical Assistant at Ross, Pavel is also a firefighter, EMT, minister, and foster parent.
He found purpose in helping people and used it to make an impact in the classroom by helping other students with book work and volunteering to be the practice student, all while simultaneously maintaining excellent attendance and earning a 4.0 GPA.
We found some time to sit down with Pavel and ask him a few questions about his career endeavors, as well as his personal life.
Here is what he had to say:
––––
Tell me about your childhood.
My childhood was like many other typical childhoods. I lived in a small farm community in Michigan and my career aspiration was to be a firefighter. My parents were immigrants from the Czech Republic. They came to America in 1965. My dad worked for a meat packing company and my mom was a stay-at-home mom until she opened a beauty salon when I was a teenager. I was the youngest sibling; I have an older an older brother and sister.
In my senior year of high school I became a first responder for a local ambulance company and earned my EMT license. About a year after I became an EMT, I was hired at the fire department in my hometown. I was there for a short time until I moved to the neighboring town and joined their fire department.
What was it about being a firefighter that appealed to you?
Being there for other people in ways they might not be able to help themselves is fulfilling. It is the same reason why I went into EMS. Regardless of whether people are at home or in an accident, they need help right away. We are there to help them and that's what is most rewarding about being a firefighter.
Did your firefighter training overlap at all with what you learned working in EMS?
It's an entirely different process. With EMS, you're treating the patient. As for the fire department, if we get a medical call, we go there and assist the EMTs. We ask them what they need us to do so they have more time to focus on the patient and don't have to think about other things around them. For example, if it's a car accident, we're there to help the EMS get the person out of the car. We try to keep the chaos down to a minimum and keep everything moving in the right direction.
You're a minister too — how did that start for you?
When I was going through my paramedic program I was hired at a Lutheran-based senior living facility. I was a nighttime EMT taking care of patients who needed help while the nurses were gone. One of the residents approached me and said I would make a good minister because of how I deal with people and listen to them, console [them], and help them feel better, even when there wasn't a medical aspect to the problems they were having. They said I was approachable and understanding, and I helped them just by lending an ear. I thought it was neat they would say that, but I didn't take them up on it at the time.
When I met my wife and started going to her church, the calling became a bit stronger. They were in need of a minister because the one they had left, so I was like, "Sure, I'll give it a whirl and see how it goes," and from there it stuck. Everyone liked it and told me I was good at it, so I kept doing it and I've been a minister for about six years now. I preach every other Sunday, and I'm also the Saginaw County Minister for Fire Services.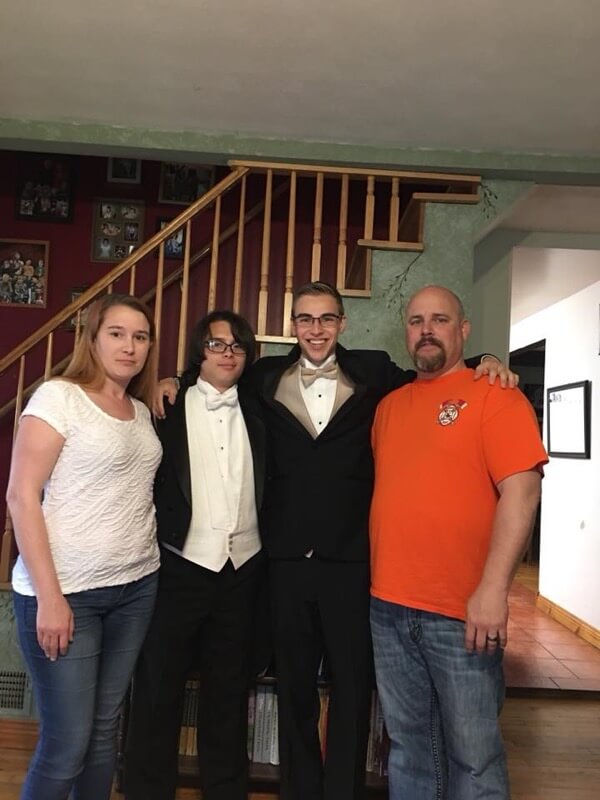 How did you and you wife meet?
The wife I'm currently married to is my second wife. We met when I was taking my son to his kindergarten roundup and we became friends. Her son and my son were both in the same grade and played little league together for many years, and we had a connection and just ran with it. I now have three kids. I legally adopted my step-son, and I had two kids with my first wife. I have a son and a daughter. Both of my boys are 19 and my daughter just turned 15. We also have an 11-month old right now we've been fostering since he was born. We've been working with his family and he will be going back to his dad soon.
How did your family get involved in fostering?
We first started fostering when one of my wife's family members needed somebody to foster their kid, and to keep the child within the family, we offered to foster him. Since then we've kept doing it more and more. It's so rewarding. We've fostered five kids over the years, all of varying ages.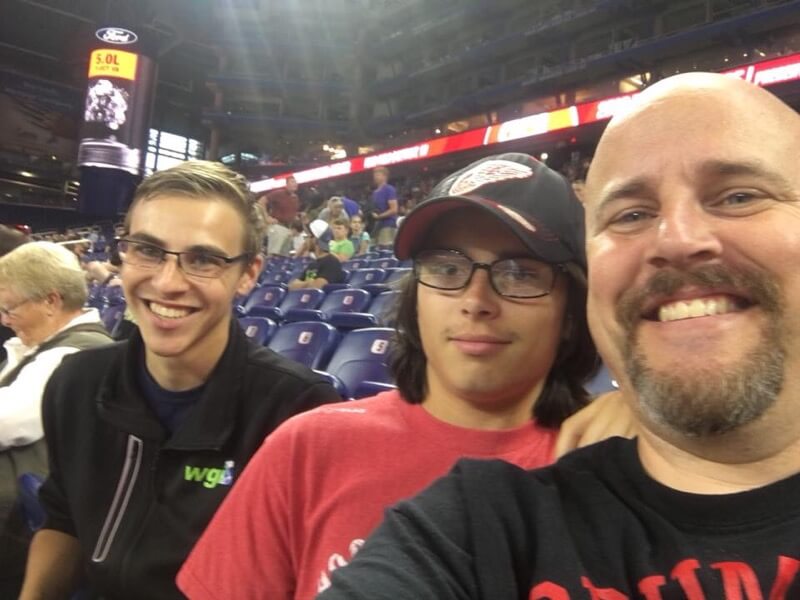 You also do peer mentoring for pregnant women, right?
Yes, it was one of the things we started doing through the foster department we are involved with. We help pregnant teens and single teen mothers who might not have any place to go. There are a lot of places where they will take the infant to help, but there's not a lot of homes who take the mom in too. The mother and child are going to have a better success rate if they're together. We'll be able to help them while the moms finish high school, and my wife can watch the children while the moms are in school. We'll be able to help them with day-to-day tasks and help them learn to become mothers while they're in school, and eventually they'll be able to find a job and support themselves.
And now you're a medical assistant working at CMU Health too.
Correct. I really enjoy it; it's exactly where I want to be. I get to help people. They bring their problems to me, and I can discuss what they said with their doctor and highlight anything of concern that might have been brought up that we might not have seen or heard from the patient in a previous visit. It also gives me more time to spend time with people than I would if I was, for example, an RN or a physician's assistant.
How does being a medical assistant compare to working as an EMT?
An EMT does a little bit more than what I do as an MA, but there are other things I do as an MA that I couldn't do as an EMT. The level of care is about the same, but it's definitely more relaxing being an MA. As an EMT, I wouldn't do things like pack wounds or remove stitches, and there are some drugs I could give that I can't as an MA. There are some decisions I could make as an EMT where I don't have to consult with the hospital or a doctor like I have to do as an MA.
There is one thing that does cross over and it's something I always stress to the people I work with and the students I was in class with: make sure your notes are complete and good. You want to draw a picture for the doctor of what's going on when you're talking to the patient. Sometimes you don't have the chance to talk to the doctor between patients. The doctor might be in with another patient, for example, and you do not have time to tell the doctor everything the patient said. If you can paint a good picture of what's going on for the doctor through taking good notes, the doctor can set a course of treatment based on those notes, in case something happens like the patient forgets to mention a particular symptom that they are experiencing.
What advice would you like to share with other students who are in or will be in the medical assistant program in the future?
When I was going through the program, I frequently worked with the other medical assistants through their externships, and I told them how important it is – no matter how small or insignificant you feel your job is – to take care of your patient, regardless of who they are or where they come from. You have to treat them all the same – you are there for their health. That is one of the key things you have to remember at all times.