In July of 2015, nine-year-old, Samuel Verhage and his family were at Bronson Park in downtown Kalamazoo, and after seeing so many homeless people sleeping on benches, Samuel felt called to help them stay warm throughout the upcoming winter season. So he created Samuel's Blankets, an annual blanket drive to help out the homeless population throughout West Michigan.

Each year, Samuel takes boxes to different stores and businesses and asks people to drop off new or gently used blankets. He knows that blankets get dirty and damaged when exposed to the elements after a while, so he wants to make sure those who need them will have one every year. This year, they collected 4,319 blankets. Samuel and his family typically hand out blankets the day after Thanksgiving at Martin Luther King Park in Kalamazoo. The blankets that are left are donated to different shelters and organizations across West Michigan.

This drive is very meaningful to Samuel because he truly believes he has the power to inspire other people to do the same. "Most people have a place to go, but the homeless don't always have a place to go warm up or eat a meal. They don't have the basic necessities that we oftentimes overlook. Homelessness is a very real thing and the homeless are growing in large numbers. No matter how much you try and push it away, the problem is still going to be there, which is why it's so important that we do something about it," claimed Samuel.

Samuel's mom, Denise Verhage, stated, "I am very proud of him. He's really passionate about it and has so much compassion for these people. I admire the fact that he saw a need and wasn't okay with the fact that people might be cold in the winter. I think a lot of people would see something and feel bad about it, but not necessarily do anything about it. Samuel wanted to make a difference."

Samuel has come far in growing this drive. "His first goal was 200 blankets and I thought that was too high, but every year he surpasses his goal. When he first started the drive in 2005, he got the word out by creating some flyers and handing them out to people. Now it's different. We have someone at our church who creates the flyers and we also have people who help us distribute the drop-off boxes all over West Michigan. We didn't have any of that the first year. It was just word of mouth and telling people what we were doing as we were collecting the blankets," said Verhage.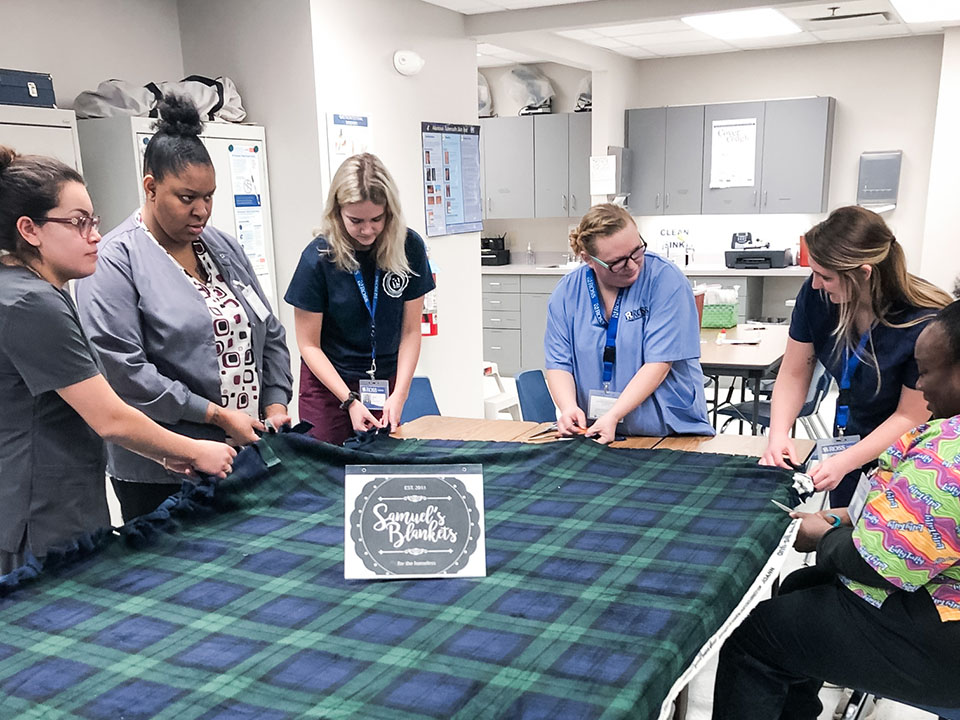 Even though it's mostly just Samuel and his family that run this drive, many other individuals have joined the effort as well. Verhage said they have someone who donates a storage unit to their house for three months and this year, he had to bring a second unit because they had so many blankets. Many companies reach out and ask if they can pitch in. For example, Green Bay Packaging donates boxes every year. They also have someone who offered to build them a website and manage it for them. At first, it was just Samuel and his mom who were dropping off boxes to different restaurants, coffeeshops, and libraries. As the years went on, more and more people found out about Samuel's Blankets and they started reaching out, asking how they could help.

Samuel and his mom agree that the biggest impact for them is when they start handing out the blankets to the people. Seeing the smile on their faces and hearing them say thank you makes it all worth it.

"We tell people to bring whatever truck they have that's the biggest and we give away the blankets that are left. We used to deliver the blankets to different organizations, but we found that it's more efficient if they come to us because we can give them more blankets that way. We would just fill up 50 gallon bags full of blankets and just load them up in the truck. Last year was the first year that we also started collecting sleeping bags because we wanted everyone that sleeps in the park or outside to have a sleeping bag. The blankets we will give to anyone in need. They don't have to be homeless. We just tell them to come and get them if they need them," stated Verhage.

Giving back to the community around this time of the year always brings people a lot of joy. Samuel's efforts have inspired many to follow in his footsteps. During the month of November, the Medical Assistant class at Ross Education in Battle Creek decided help Samuel spread a little warmth. They contributed their time and effort to the community by making a tie blanket together and then donating it to Samuel's Blankets.

Lindsey Smith, Career Development Representative, found out about Samuel's Blankets through her husband's company and thought that making a tie blanket together and donating it would be a really fun project for the students get involved in. I think it's touching that such a young boy had the drive to start this. It's expanding and growing bigger every year and we obviously want to give to his cause because he is so passionate about it. It's like a domino effect – one small act of kindness can go such a long way and inspire others to do the same," said Smith.

Although Samuel primarily focuses his efforts for this drive during Thanksgiving, he is still accepting new and lightly used blankets all year round. Boxes have been removed from stores, but you can still make a donation here. The money that is donated goes towards the purchase of new blankets. They try and find the cheapest and best quality blankets possible, which are then delivered to shelters through the winter season. In the five years since starting this drive, Samuel has collected and passed out more than 10,200 blankets. He plans on expanding Samuel's Blankets even further, however, next year he will be taking a break from the drive in order to restructure it in a more efficient way. He believes in his mission wholeheartedly and knows it's one that needs to keep going.