Everyone experiences hardship at one point or another in life. Overcoming those obstacles takes a lot of courage. Crystal Wexel, a former Ross Medical student, shows us all that it's okay to feel the fear and to do it anyway. After experiencing several setbacks and challenges herself, Crystal decided she was going to make some changes that would allow her to live a more fulfilling and purposeful life. She started with her career. After being in early childhood education for the majority of her working life, she decided to take a leap of faith and make a major career change. She's always expressed an interest in dentistry, so she enrolled in the Dental Assisting Program at Ross Medical in Brighton, Michigan. After completing her studies, she immediately got hired at her externship site, and is now working on getting her CDA certification.
Aside from being a dental assistant, she is also a mom of two teenagers. One of her main goals was to show her kids that you have to work hard to reach your goals in life and that it's possible to be single in the world and still succeed. Crystal is confident that it was through her dedication and positive mindset that she was finally able to find purpose and fulfillment in all areas of her life.
We found some time to sit down with Crystal and ask her a few questions about her career and personal life.
Here is what she had to say:
Tell me about yourself.
I recently got married in December and I started at Ross over a year ago. I did a complete 180 in my career choice. I was involved in early childhood education, but that wasn't working out with my current circumstance at the time, so I decided to go to Ross. I'm now on a whole new career path and I feel probably the most confident I have in years.
What made you want to choose dental assisting
I was that weird kid that didn't mind going to the dentist. I actually liked having my teeth cleaned. I was always fascinated by what the doctor was doing and all of the tools they were using. When I first walked into Ross, I wasn't sure about which program I wanted to go into. I was thinking about medical assisting, but when Brighton said they offered dental assisting, my mind was made up on the spot.
What's your favorite thing about your job?
I love my job for quite a few reasons. I was hired at my externship site, and I was really blessed with Wendy and Cathy at the Brighton location. They helped me find the externship, and I think it was meant for me because I have a friend that attends church with Dr. Attarian. I interviewed with her for the externship. She and her husband Chris were both in the office and they were exceptionally nice and open to having me there. They were very willing to teach me. It's a small practice, so I like the family feel that we have. We support each other quite a lot. It's a very relaxed yet professional atmosphere. Not that we make mistakes on patients, but if you drop something during a procedure, it's not a big deal. I really like working with the patients. The patients almost feel like part of the family. She's got many of them but you really get to know them because you see them two or three times a year. Aside from that, I also think it feels really good to be in a professional field.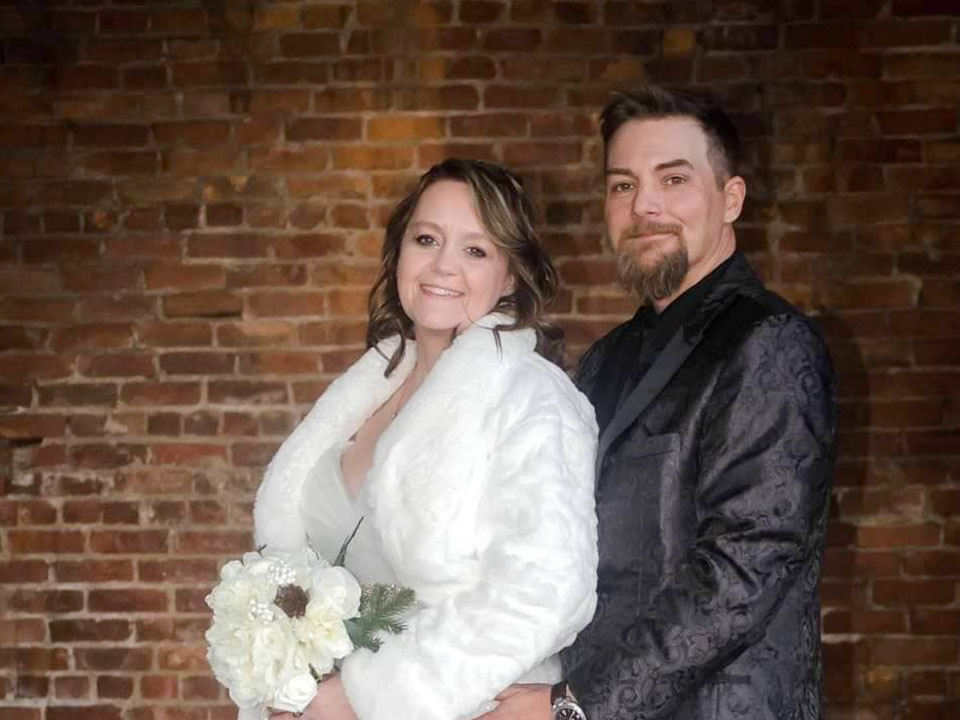 What advice would you give to a student who is considering this field?
Be 100% sure that you're ready to be working in people's mouths. The dentist does most of the work, but you're going to be getting blood on your hands from time to time, depending on the procedure. I wouldn't say that you have to have a super strong stomach, but you can't really be squeamish during these procedures. You'll really benefit by always listening to your instructors, taking your school work seriously, and when you get out on your externship, asking many many questions. Don't be afraid to ask questions. It's really important to listen and to take notes. Once you're there, your doctor will be relying on you to help him or her.
What achievements are you most proud of?
Graduating from Ross. I just turned 41; doing the career change was scary because I had known early childhood for 15 years at that point. So just being able to work, go to school, and take care of my family was a feat that wasn't always easy, but I'm proud that I did it.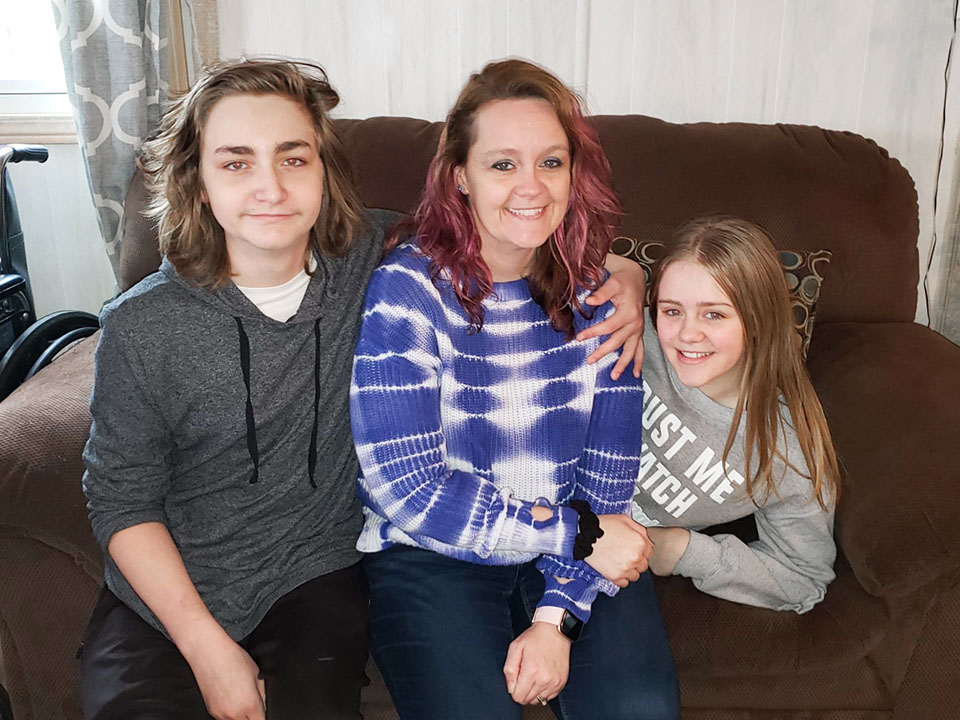 Are there any particular people or events that have inspired you to progress as a person?
To get a little personal, I went through a pretty rough divorce which lasted two years. It was a life changing event. It was frustrating and challenging to have your life turned upside down and to have to remodel yourself so to speak. Now that I'm through that, I look at it as a blessing. Without it, I might have remained complacent in life. I think oftentimes, certain things come along and they seem like hell when you're going through them. But if you push through and make the appropriate changes to get through those hard times, I think that will make you a much better person in the end.
Are there any other obstacles that you've had to overcome?
Yeah, I mean I think with most people, there comes a time where a certain road or obstacle comes along. I would say the divorce I went through was definitely up there on the list, but there were other obstacles in my life along the way that maybe led up to or stemmed from that particular event. I've always been an anxious person. It's kinda difficult for me to talk about myself, so being in a social environment with people that I've never met before is hard sometimes. Having more confidence in myself is an obstacle that I've had to learn to overcome. I always remind myself that if this person can do this set of jobs skills, this painting, or that sort of thing, then so can I. It's a matter of convincing myself that I am confident enough to do whatever I'm trying to accomplish. That was the case when I decided to go through with my divorce and to go back to school. There's this mental block of "I don't know if I can do this." It's just this internal battle in your head. So in the last six years of my life, I've learned ways to cope with that. I try to push through by reminding myself that it's usually the anxiety speaking and that I'm not alone.
What changes do you feel like you had to make as far as overcoming obstacles? Are there any particular aspects, like attributes of yourself, that made a real difference in moving forward?
Well, it took a lot of courage. My friends and my dad, especially, told me all along that if there was something that I wanted to do, I would find a way to do it. No matter what it was. I would figure it out and get it done. Sometimes it's good and other times it's bad. But in my adulthood, it was for the better. That was something I didn't really see in myself before. I know it sounds really silly to say that I had the courage to go back to school or do a 180 in my career. People do it all the time. So oftentimes I think I just did what everybody else in our country does.
As far as finding the things to overcome it, it was a matter of having some quiet time to reflect on myself and the accomplishments that I have made along the way. And just to say, you know what, my dad was right. Amber and Jen were right. I did have the courage to get out of a toxic relationship even though I knew there was gonna be hell to pay. I said okay, fear gets put aside and you just take it one day at a time. It's really difficult to keep your mind set on one day at a time because you fight with your inner demons about what if this or that is gonna happen next week. But you just have to have the courage to put one foot in front of the other and keep going.
What was your motivation for making the sacrifices you've made up to this point?
My children were my number one motivator. They're teenagers. My son is 16 and my daughter is 14. I wanted to show them that you have to work hard for things in life. It doesn't just come to you. I also wanted to show them that you can be single in the world and still succeed.
What do you do for fun?
I love photography. I'd say I'm an intermediate photographer. I have a lot of people asking me to do family or senior portrait sessions for them. I also really enjoy writing. It can be really challenging sometimes to stay focused though; I don't like to sit still. So, a lot of the time, I'm out hitting a trail or watching animals in my yard.
What kind of writing do you do?
I like to write inspirational things, essays, personal thoughts, and views. It's always been a dream of mine to put out this one book that I started writing in my twenties. During quarantine, I've organized everything in my house. I was looking through a box and I actually found this story. My daughter, who is thirteen, read it and she was like, "This is really good mom. You have to finish this." I know that I'm a good writer, but I'm scared of putting a book out there. So I'm trying to work myself up to just do it. Because what's the worst that can happen. You may get a few no's but you might also get told yes.
Is it the fear of the book not being liked by the reader or the process of putting it together and publishing that is overwhelming to you? Or a combination of both?
It is a kind of a combination of both. Sometimes I get scatter-brained a lot and I try to write but nothing comes to me, so I just get frustrated. And then I don't do anything with it. I also don't know a lot about the publishing process. Ultimately, it's the fear of the book not being liked. In school, I never liked the red pen theory. I just can't handle it. I hate seeing a red pen. Going through the publishing process, your editor is going to send back a bunch of red pen marks or suggest something different. So I think it would be kinda hard to let go of your original idea.
What's your advice for people thinking about returning to school or changing their course in life?
I would advise that if they're feeling the pull or need to go back to school then don't be afraid to do it. About a month ago, I saw something online that said, "Don't be afraid to suck at something new." That was the best thing I had ever heard because so many times in life we let fear get in the way. I was thinking, what if I'm the oldest person in the class or what if I can't do this. Well, you can. As long as you have the drive to do it, you will get through it and find a way to make it happen.
What techniques did you use to keep yourself motivated?
I had to revert back to the time I was in college to remember study habits. As far as study time goes, I'd sit at a table rather than on the couch because I could focus better. Also, make sure you're punctual to class. It's a serious thing. You're paying money to be there and your instructors want you to be there. So treat it accordingly, just like your job.
Are you an introvert?
Oh yeah. I was recently speaking with my neighbor and I hadn't heard the term before, but he said something about an introvert who is forcing themselves to be an extrovert. And I'm like, "Hey, yeah, that's me." I really do like people and I like to be social but it's also very difficult for me. If somebody asks for my opinion or advice, I'm happy to give it to them. But generally, I don't walk into a room and be like, "Here I am." That's my best friend's personality. She demands attention right when she walks into a room, so somehow we balance each other out. Now that I've been paying closer attention to individual personalities, I've found that usually you tend to be drawn to people who balance you out with their differences.
Back when I was in school, I used to force myself to be an extrovert because I hated how people were always like, "You're so quiet and shy." In high school, I had a friend who was in drama class and she convinced me to do drama and I'm like, okay maybe this will make me change and enjoy being center stage. And I did it. I can't say that I regret it but I ended up taking a lead role. I still remember that day. I was only 17 and I had to black out everybody in the audience. I had to only focus on the stage and the people who were there around me. If I thought about the audience, I would stumble across my words. You definitely can't force yourself to be someone you're not. It's gonna catch up to you. And you're gonna feel the discomfort. So why not just be authentic and yourself from the beginning.
Tell me about the office that you work at. What do you do on a typical day? What's the atmosphere like?
I work for Dr. Gwynne Attarian in Brighton, Michigan. We have a really small office. There's just six of us that work there. I love the dynamic because I realized I wouldn't be successful in a large and busy office. I like to be busy all day but I think working with fewer people is definitely a better fit for me. Dr. Attarian likes to teach, and being that I took a different turn in my life, having a boss like that is really helpful. There are some things that I didn't get to practice as much in the classroom. And I find that if I can be with someone who is patient with me, it just makes the whole environment a lot calmer. I'm not afraid to ask questions or reprimand something. Karen, our front desk receptionist, is like a mother to us all. She is actually the same age as my mother and it's just in her nature to do motherly things like give us recipes or give us advice. My co-workers and I are really similar in personalities. We like to help each other so none of us ever feel like we're taking on the whole work load. A day in the office runs really smoothly.
Our patients are adults for the most part. We see a few children, but it's not our speciality and Dr. Attarian is not afraid to admit that she's not the greatest with children, so most of our patients are like 35 and older. A lot of them are older because she took over a practice for a periodontist. So I kinda see the dental angle from the older perspective.
Do you have any stories about your patients that stuck out to you?
Oh, yeah. At first, there's always that nervousness that you experience, whether you have training or not. It's a completely different experience going from your in-class clinical to being on the job. So for the first week or two I was quite nervous with patients because I was the new person and you have to introduce yourself.
We have a patient who has become a favorite of mine. I think he was picking up on the fact that I was nervous and it was the first time I was doing X-rays. When you're doing X-rays on a person, it's different than working on a dummy. So he was very patient with me while I positioned it because I did have to do a few retakes. He made some jokes along the way. Fast forward to when he's actually in the chair and we're doing the work, Dr. Attarian had an older stool that was wobbly and it kinda just gave out. I lost my balance and I almost fell into him. I felt my face burning and I'm just like, "Oh my gosh, I'm so sorry." Water went all over him and he's like "Oh, I got it." Thankfully it was not a rigid character because if he had been serious that might've not ended so well. So we had a good laugh, got a different stool in the room, and carried on. This was around two weeks after I got hired full time.
What makes you feel accomplished?
I purposely set up moments where I am stepping out of my comfort zone. Like doing that play back in junior year of high school. I knew that wasn't gonna be my thing, but I felt like if I put myself out of my comfort zone, I could probably have that rewarded feeling inside. And I did. I was like, "Wow, I got through that. I pushed myself." Each one of those steps that a person might take to put themselves outside their comfort zone is gonna be different for everyone, but in the end it really helps.
I actually can use that instance with my husband now. I've known him since we were in third grade and we were friends all along. We kinda lost touch for a few years after high school and then Facebook came along. He was going through a divorce as I was going through mine. We kinda always had a little crush on each other but neither of us ever did anything with it. The timing wasn't the best, but I decided to step out of my comfort zone and blurt out my feelings for him. Even though I was paranoid that he was gonna look at me and be like, "Oh my god, you're a weirdo." He actually validated it and said he feels the same way. And we joke about it now. We're like, "Had I not told you that you had beautiful eyes that night when we were out for Shawn's birthday, where would we be."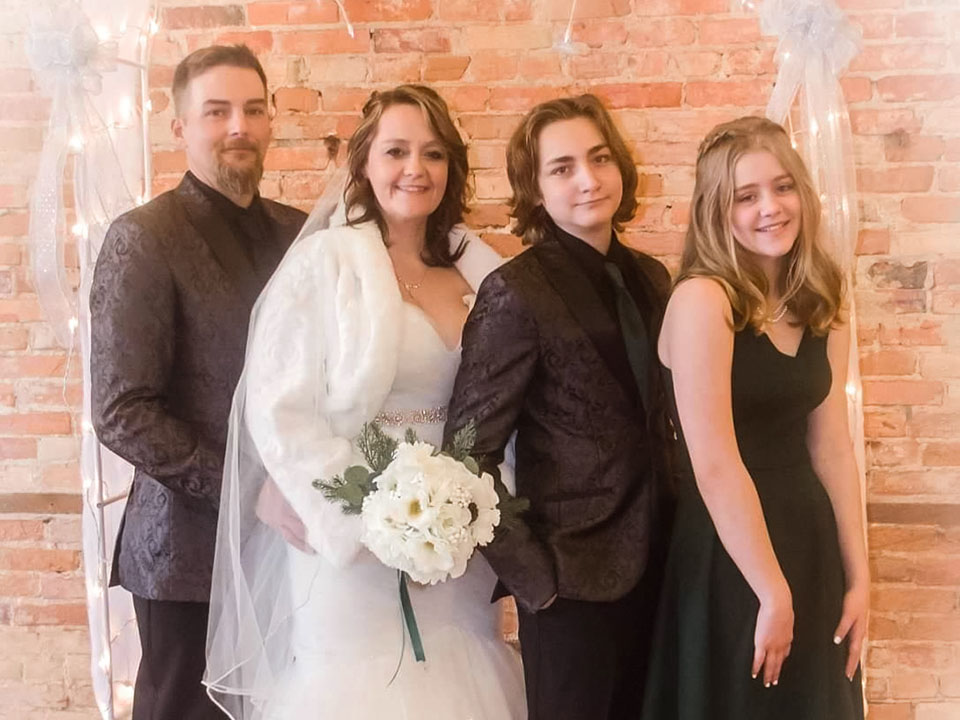 How were you able to overcome complacency?
For me, complacency is not a pleasant feeling. You don't feel accomplished or rewarded, and those are two things that I, as an individual, need to feel. I don't like that feeling. You know you're bored and unhappy and you know you need to push past any fears to move forward. If you're just gonna complain about going to your factory job every day and punching the clock then you're accepting complacency because you are not doing anything to better yourself.
I had to put aside all sense of fear and the what-ifs. I had to look ahead and think about how I will feel at the finish line. And that goes for everything. Not just going back to school or my divorce. You have to push past those fears and remind yourself that you're gonna feel really good and accomplished with yourself if you can get through it. While I was going through my divorce and trying to find my way as an individual, my friend sent me this video by Steve Harvey. I think it was called Jump. It was really inspirational because he was talking about how you just have to jump. You're not gonna accomplish anything just by sitting there. He makes jokes about it. He's like, "Yeah, you're gonna fall, your parachute might fall, you're gonna get scraped up and bruised." It was such the perfect analogy, especially when you are making life altering decisions, and you know there will be failures along the way. Now that I'm through it, I can say it did hurt for a while, but in the end it was worth it.
Do you have a day-to-day mantra?
I don't know if there's one in specific, but there have been a few along the way. I had a good friend named Nancy who always used to tell me to feel the fear and do it anyway. That really stuck with me. So I keep that in mind when I have to make big decisions.
How did you learn about Ross Education?
It was probably like 20 years ago that my younger sister went to Ross and she went into the MDA program. So I've always known about it. And then my sister-in-law actually went through it too.
How was your campus experience different from your initial expectations going into the campus? Was it a lot different than you imagined?
I was thinking it was going to be a lot more difficult than what I thought because it was a complete 180 from what I did. I was scared that I wouldn't be able to succeed. I also thought that medical terminology was gonna freak me out. I was really nervous going in. I didn't know what it was gonna entail. The admissions process was very friendly and easy. They kind of feel you out and ask you some questions, which I think is important. When I went in for the admissions appointment, that was one of those times in my life where I knew I needed to get this done or else I would keep putting it off. I made my decision to go through with it right away and the next day I had my admissions interview. The program is set up nicely. It's a good combination of book work and clinicals. There was a lot of reading and notetaking involved, but that's always been easy for me.
Can you talk more about the externship process?
I did the externship at my current office. I think it was very beneficial and necessary. Without the externship, going straight from school to the work environment would be even more nerve-racking. I'm still in contact with one of the girls from my program and she said that she discovered dental assisting wasn't for her during the externship. So she spent all that money, which is unfortunate, but at least she had that cushion to find out that it wasn't for her.
Talk about the campus experience and the undergrad program at the Ross campus. Do you have any memories there?
The campus experience was really great. I like that Ross is fast-paced and somewhat traditional. Like you have your bookwork, your clinicals, and it's very well-balanced. I attended the Brighton campus and everyone there was really encouraging. Sometimes I don't have the highest self-esteem so if Ross wasn't such a warm and friendly place, I might have given up.
Christa Reich was my instructor and I still talk to her. She was very encouraging and she is around my age so that helped too. She would often share stories with us about her experience in the office, which made it seem a lot more real and achievable. She would always give us opportunities to better ourselves. Last May, we went to a dental convention together and she set me up with some essay writing contest that I ended up winning. So I'm grateful she gave me the opportunity to do that. And they actually have a plaque now at Ross with my name on it. The campus director Susan Mall is a bag full of smiles. She's perfect. She kinda reminded me of a high school or middle school principal. Like don't make her mad. Do what you're supposed to do. But she was always excited when greeting me. Even now if I stop in, she's so kind to me and I get a hug.
What are some of your goals and aspirations for the future?
My goals are a combination of the professional and personal. I definitely want to earn that CDA. I need a crazy amount of clock hours in order to finish it and it's been a little discouraging with the quarantine because I haven't been able to get those hours, but eventually I will get there. I also want to get the RDA as well, so then I'll be doing more work on the patient myself. I really respected Christa's position. I would love to become an instructor. I don't know if that would be at Ross. I mean that would be great. I keep bragging about Ross but I just think it's a really good program for someone like me that didn't want to go back to a traditional college or for someone who is young and in their 20s and wants to jump into work right away and have a career. So I do like to teach. Even though I'm a bit introverted, I think teaching something I'm passionate about would be great. Doing that six or seven years down the line is definitely something I would like to do.
I have also set up many health and financial goals for myself during this quarantine because we've had a lot of time on our hands to think about everything. I've been trying to put away money for retirement, savings, kids college, and things like that. Oftentimes, it's said that in people's lifetime, health, wealth, and love are the three most important things. I think I pretty much have all of those under wrap if I just keep my nose to the grindstone.
How do you wish to be remembered?
Authentic. I'm quirky, weird, and silly. I like to make people raise their eyebrow at me and be like, "What the heck are you doing?" I also wanna be remembered as someone who cared about others.
If you could tell your former self one thing, what would it be?
If I could go back to my teenage years or early twenties, I would tell myself that you have more inner strength than you know, you have more talents than you're willing to admit and accept, and that it's okay to feel the fear and to do it anyway.