Shawn Gallagher, a former medical assistant student at the Flint campus, is a great example of someone who was able to manifest what he wanted by working hard and rising back up every time life knocked him down. He continued to stay optimistic in his journey of starting a new career. Born in Germany and raised in Flint, Shawn has always been inspired by new cultures and experiences that help him expand his horizons.
After moving around a little bit during his early adult life, Shawn came back to Flint and decided to pursue a career in the medical field. He attended an expo where he learned about credential training in the medical field. He came across the Greater Flint Health Coalition Healthcare Employment Opportunities (FHEO) Program. Following 120 hours of Professional Life Skills and Healthcare Career Exploration training at Flint STRIVE, he took part in a rigorous recruitment process which successfully landed him a scholarship to Ross in July 2019. Shawn was the first FHEO Program participant to graduate from Ross Medical Education Center. During his training, he became an exemplary role model to his peers. He demonstrated good leadership and he was able to build a network of other healthcare workers.
We had the chance to sit down with Shawn and ask him a few questions about his personal journey and his experience leading up to becoming a medical assistant.
Here is what he had to say:
---
Tell me about yourself.
I was born in Germany, but raised in the US for all but one year of my life. My parents are American, and they were both part of the US Military. My mom was in NATO and my dad was in the army, so we were stationed in Germany for a while. We eventually came back to Fenton, a city just south of Flint, and that's where I grew up.
My dad's family is Irish, and he is a first generation born American. On my mom's side, we have relatives dating all the way back to the Mayflower.
I spent my childhood in Flint, after graduating high school, I joined the army, but my contract was broken. I was supposed to have a K9 dog and I was assigned to a different station than the one I was told originally. So I took my general discharge and I left back in '96. After that, I lived in a few different places, I moved around quite a bit, I've lived in Florida, California, and Chicago but I finally moved back to Michigan from California in 2017.
I'm also a single father. I have custody of my daughter, and we're currently staying at my mom's house. My parents' health is fluctuating, so I'm glad I'm able to help them out every now and then.
I recently took a two-year sabbatical from the medical field in 2017-2018. I went into the Local 80 Sheet Metal Workers Union, and I was making decent money there. In 2017, though, I got laid off. Then in early 2018, I was looking around for pretty much anything to help me get me back into the medical field, something stable.
So, with that, I had contacted the FHEO and they put me into STRIVE. STRIVE is an organization that collaborates with different companies around the city to help train individuals to become entry-level staff members. They have a three-week professional life skills developmental training. The training focuses on patient care issues, confidentiality of patients and co-workers, understanding the work environment, and conflict resolution. Each graduate is provided with two years worth of case management to assist with retention. After I completed the program, they offered me a scholarship to Ross Medical. I was their first student to ever receive a full tuition scholarship, and I was also the first one selected for a full scholarship to Ross Medical. Before that, they've never paid completely for anyone through the program.
Outside of that, I worked hard while attending Ross. I got a 3.0 GPA with near perfect attendance. There's a couple of times I turned in my assignments late, but overall, I have like one or two semesters of perfect attendance. I showed up pretty much every day and just did my best. My hard work paid off because I graduated at the top of my class.
Tell me about your family.
So like I said, my daughter and I spend a lot of time together. I love seeing her grow up and develop her own personality. It's really fascinating. We also love playing video games together. It's a vice versa type of thing. I didn't wanna get her into it, but she got into it herself.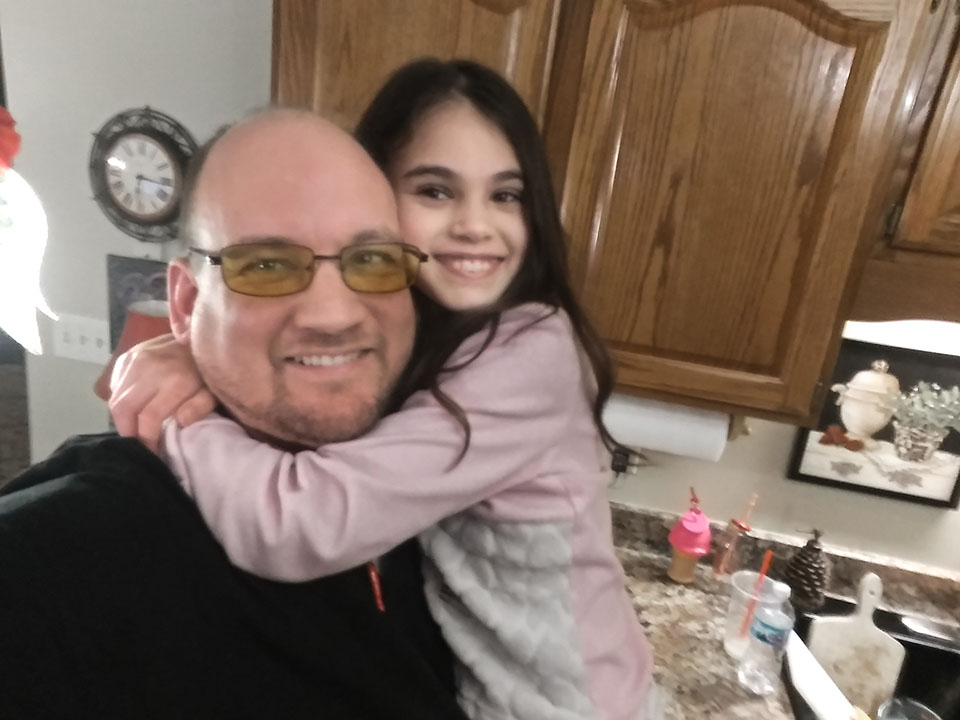 Tell me about Flint.
In my opinion, Flint is a unique city that is certainly a page out of time . I mean, don't get me wrong, I love it. I grew up here and it is my home, but I think the city as a whole could benefit a lot from embracing the now opposed to how we once were. One of my favorite things about Flint is the fact that we've made marks on the food industry, that only great cities in this nation have ever done. A perfect example of this is, you have your New York Coney Island, Chicago-style coney, and Detroit-style coney. Flint is famous for its coney. The Flint Coney is a hotdog seasoned with ground beef, onion, and mustard. It's really good. In Flint, right across the street from campus, there's a little restaurant called Leo's Coney Island. They kinda overcook their stuff, but it's really amazing food. The Flint coney can be hard on your stomach, but when you're done with it, you're gonna be like, "God, that was good!"
So in that aspect, Flint is a fairly unique city, but like I said, it's also a page out of time. People here tend to stick to their normal ways of doing things; not many are open to trying new things. I'm 43, so I'm into health and new cultures. I like to understand why people think and do the things they do. Sometimes it makes more sense than the things we do here. We're supposed to be a melting pot of cultures, but it's not always like that. And I find that a lot of smaller towns are the same way.
Tell me about your training.
So, with FHEO, they definitely put you through the ringer while you are doing their three-week program called Flint STRIVE. It's a very difficult program, but they challenge you on purpose. They want to make sure you are going to make it. In the process, they teach you the importance of looking professional. The importance of being professional. Things to and not to say. They walk you through job interviews. They give you difficult rules on purpose, and they try to provoke you and annoy you just to see how you will handle it—whether you will snap or just take it and roll with it. It's a really interesting program modeled after the military. Through the FHEO, they have a two-part program. The second part of the program is extremely tough. You really have to be a good fit for the program and fit their mold. It's very strict in that aspect. This program in particular is not just in Flint, but STRIVE is nationwide. As far as offering help with the FHEO, the Flint Healthcare Employment opportunities are the one that have the program and the idea of bringing in people through STRIVE. They will guide you into the school of what you're looking for and assist you with payments toward your career of choice.
What made you want to get into healthcare?
Initially, back in 2006, I really liked working with geriatrics. I did it for a while, but I didn't know if it was something I could see myself doing long-term. I mean, it didn't pay very much, but recently, I wanted to take a sabbatical to see if this was something I had missed or if it was something I wanted to pursue for the long-term. I took a good look at it and I realized that aside from helping my patients, I was actually helping myself as well through the work I was doing. In a way, it gave me purpose. So I stepped back toward the direction of becoming a medical assistant.
What were you doing before going into the medical field?
You're talking to someone who has rolled around and had no goals or angle. From the age of 14, I had a career mapped out in law enforcement. I joined the US Army. When I went there to be a military police officer, I realized that I was around a bunch of people who were not of the same mind set, and you kinda get disheartened at that. With criminal activity, you're supposed to be protecting people, but sometimes there's not much of that happening. When I left, I destroyed my career in that field, and it was tough not having a real direction of where I wanted to go. I had gotten married in 2004, my wife at the time suggested I try something different. "Get into the medical field". So I started as a CNA and I just fell in love with the work. That's the best way I can describe it. I think it's really important to love what you do – it makes life so much easier.
What made you want to pursue medical assisting in particular?
It's a step up from being a CNA, so you're essentially just climbing a ladder to get to a better place.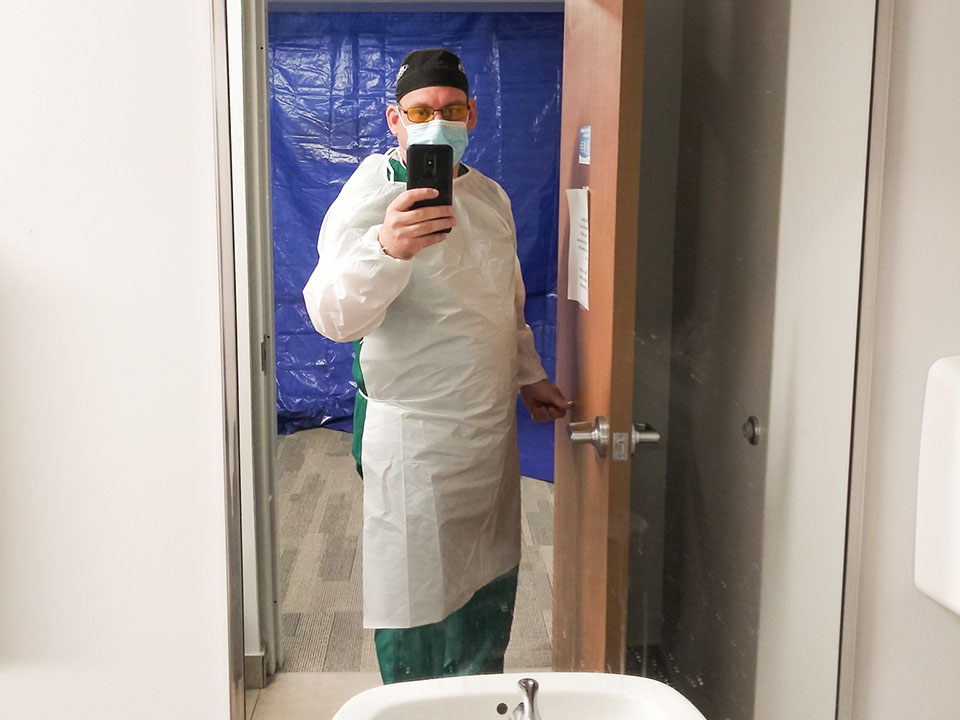 Tell me about your experience at Ross.
I had a pretty good experience at Ross. I really loved the school. My teachers and I got along great. My initial impression with Ross was actually a different one. I didn't really know what to expect, but as time went on, I got to know my classmates, and they were excellent to be around. You also have a lot of diversity within the school, but it was great because you kinda mold together to work around it. There's the strong personalities and then there's the more meek and humble. The teachers were very supportive as well. They have a tough job, but they did a stellar job at teaching.
Tell me about your externship.
It landed me to the job where I'm at today. After completing my courses, I was dispatched from school into my 8-week externship. In fact, it ended up being a little less than that. It was more like seven. I had done my externship at Michigan Health Specialists, and Dr. Seif Saeed was highly impressed with my abilities, so he extended me the invitation to stay. As we processed everything, I took the two weeks off, and came back to work for MHS (Michigan Health Specialists), as an employee this time. As we did so, COVID broke out, and I actually ended up becoming one of Michigan's first full-time testers.
https://nbc25news.com/news/local/whitmer-ups-covid-19-test-goals-amid-supplies-shortage
Are there any people or events that have inspired you along the way?
Within Ross, the ceremonial pinning at the end was very inspiring. I think it was a huge motivator because we were one module closer to being done. The more you took your studies seriously, the better you could do. We pinned the juniors that were behind us. It was something that kinda just clicked in my mind at the end. It adds personality to the school and it's awesome to pass on the torch to others and congratulate them for earning it themselves.
Tell me about the clinic you work at.
Michigan Health Specialists is a family oriented clinic. Basically, it's a doctor's office, but a much bigger operation than most places in Flint.
When I started here, three of my classmates were working at this clinic. One got laid off and the other went on medical leave. There was also an extern, but once COVID hit, she stepped back to focus more on her current position. There are still quite a few Ross alumni that work here, in fact most of the people who I work with are Ross alumni. At least five of the seven employees are, and they all really helped me along the way.
What is your favorite thing about your job?
The fact that I got the training to do the job. Proper training. Some things are different in the aspect that we use Epic when we chart at work. At Ross, we used Sim Carts. It varies a little. It's also kinda difficult because we don't get the training on it like we did with Sim Charting. Here, they don't really have any teachers to train us how to use it. We just figure it out on our own over time, but we just get used to it.
What achievements are you most proud of?
Two of my proudest achievements are getting a scholarship to Ross out of FHEO and being the first COVID tester for the state of Michigan. It's kinda territory where nobody else had gone before when I stepped forward.
What was the process of starting the testing clinic?
Dr. Seif Saeed had walked in one day and he said, "We've got a crisis and an epidemic on our hands. We need to start testing people. I need a volunteer to step forward." There were a few people who thought about it but you could tell that they didn't really wanna do it. So I stepped forward and said I'll do it.
I started at Michigan Health Specialist somewhere between March 1st and March 11th. COVID hit Michigan within a week to two, and I started testing the very next week. I was a regular medical assistant, and after that, we had set up a COVID center. From that point forward, we were doing tests pretty much out of the gates.
How have you been able to stay motivated throughout the pandemic?
My daughter is my first and main motivator. Just being home with her after school everyday. That in itself was a huge motivator. Outside of that, just looking around to the people who needed to get help and medical attention. That was also a huge motivator. I have somewhat of a nature to do that. We have four doctor's offices. They are located in Burton, Grand blanc, downtown Flint, and one in Flint Twp.
What advice would you give to your younger self?
Get into the medical field earlier. You won't regret it.
What are you passionate about?
I'm really passionate about learning new languages. I've always loved linguistics. I actually started learning Russian around 2020, around the same time I had to learn Spanish as I lived in southern Florida and majority of the populace in the area was Latino. I enjoyed it a lot, but I had some trouble with the alphabet and the pronunciation. For example, the "l" in "llama" would always throw me off. So learning the Russian Cyrillic alphabet was actually much easier for me. I just grabbed everything I learned as a kid and applied it with a new set of rules. I started it as a hobby. I had some Russian friends, and I used to watch their daughter. I had two nights off, like Thursday and Friday. In return for watching their daughter, all I asked for was to learn Russian. So, at night, I would work with the parents on learning the language. I started off by reading books and some material they put on the refrigerator for me to study. It also helps if you don't care about looking like a fool. It's definitely worth it because you start to learn phrases and then you start to understand what people are saying. With Spanish, I was told that I speak with a Mexican accent, and a slight accent with Russian and Portuguese. I think my love for linguistics stemmed from my family living overseas for a while. Being born in a different country also sparked my curiosity for linguistics and cultures. My mom spoke German as I grew up. While she was stationed there, it was tough when nobody was able to help you unless you spoke the language. So, when in Rome, right?
Tell me about your hobbies.
I'm really into science, but I do enjoy scientific theories and learning about quantum theories and the basic rules of our Universe. Also electronic devices fascinate me. I've always wondered what would happen if you were to take a set of smart glasses called Vue that uses bone conduction technology and applied the idea to a person who is either deaf or partially deaf. But, yeah, those are the kind of things I like to think about every now and then.
In addition to my love for technology and science, I also would like to start doing more water sports, like surfing. Just go grab a board and surf in the Great Lakes. They say September through May is usually the best time to go surfing, so I am hoping to give it a try sometime soon. It's definitely on my bucket list.
Any future goals or aspirations?
I am hoping to find the right girl, get married, settle down, and maybe have more kids.
I also do Christian cinematography. I own Vapor Studio LLC for Sports Creek, so eventually I wanna get that started up and just focus on it. Christian cinematography is something I feel needs a lot of attention these days, so I wanna get to a point where I have the luxury of dedicating a lot of time to it.
Additionally, I want to start a college savings fund for my daughter to have for when she's older. She is only 11 right now, but time goes by pretty fast, so if she chooses to go to college, she will have some help. Overall, though, I do enjoy where I'm at right now in life, but those things are definitely at the top of my list.